The third and final round of the competition of ballet dancers in Astana ended yesterday. The names of the winners were announced. Throughout the week, on the stage of the ASTANA OPERA theatre  contestants from Russia, Japan, Belarus, Ukraine, Kazakhstan and other countries competed in skill and academism.
The competitive program was varied and eventful: in the first round, variations and duets from classical ballets were obligatory, while in the second they added the numbers of a modern choreography that allowed the participants to show the full range of their capabilities.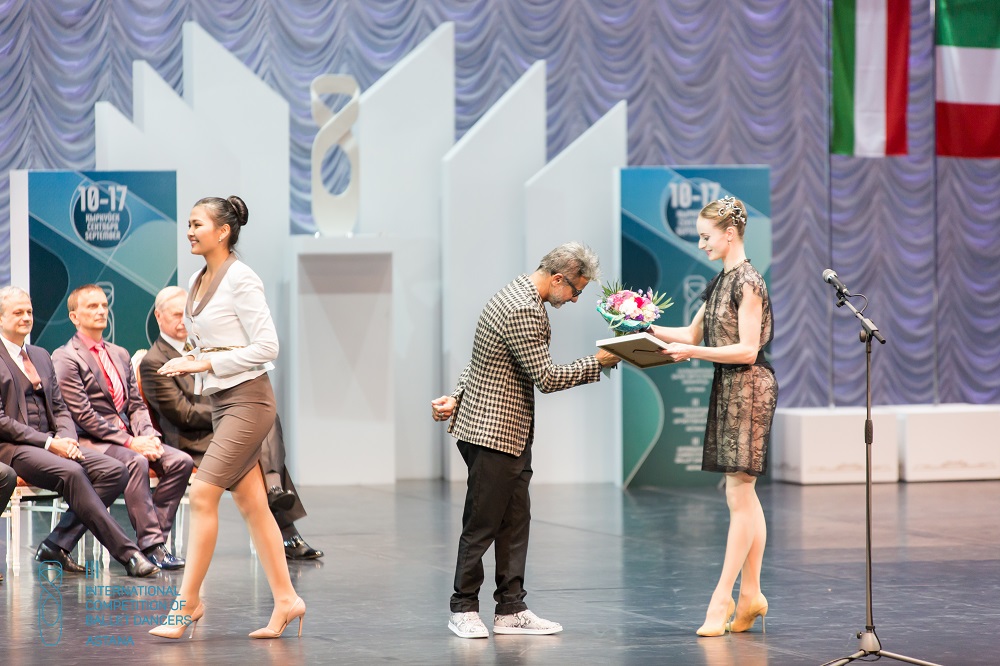 The undisputed leader of the contest and the winner of the Grand Prix became the leading soloist of the ASTANA OPERA Bakhtiyar Adamzhan. This is the third Grand Prix of the Kazakhstani artist this year, just a few months ago he became the winner of international competitions in Turkey and then in Seoul(South Korea).
First prize and second prize among men were won by the soloists of the Astana Opera Serik Nakysbekov and Yerkin Rakhmatullayev. The artistism of the young actor Serik Nakysbekov was also marked by the special prize of Akimat of Astana city; Yerkin Rakhmatullayev at the same time became the winner of a special prize of Petipa Heritage Foundation and the National theatre of Bratislava "PETIPA PRIX" for the best interpretation of the classical heritage, and, therefore, he now has the opportunity to play the main male role in the ballet of Marius Petipa "Le Corsaire" at the National theatre in Bratislava in season 2016-2017.
The third prize was divided between contestant from Belarus Konstantin Geronik and participant from Kyrgyzstan Farukh Sadyrkulov, the penetration of the image of Konstantin and the technical skill of the second evoked constant applause in the auditorium during all days of the competition.
The First prize among women was not awarded. The second prize was divided between contestants from Ukraine Natalya Ivasenko and Elina Pokhodnykh, whose academicism and sense of style was emphasized by the Chairperson of the jury Altynay Assylmuratova. Elina Pokhodnykh and Konstantin Geronik received a special award from the ASTANA OPERA theatre, namely the invitation to participate in the play in the season 2016-2017.
The winner of the third prize among women became a skilled participant from Belarus Alexandra Chizhik.
Viktor Tomashek from Ukraine received a special prize for the partnership.
The prize named after the outstanding Kazakh ballet dancer, People's artist, Ramazan Bapov was awarded to the soloist of Abay Opera House, Rustem Imangaliyev, who is remembered by extraordinary elegance of performance.
The prize "Hope" receives a young ballet couple from Yakutia, Maria Kuzmina and Timofey Fedotov, who, unfortunately, have not been passed to the third round, but they were noted as very promising artists.
The winner of the special prize for the best performance of contemporary choreography became a soloist of "ASTANA BALLET" Theatre Riza Kanatkyzy. Modern production of Belgian choreographer Ricardo Amarante caused a strong reaction of the hall and was highlighted by the jury.